0 Greater Poland Diaspora around the world
Our in-person family gatherings
Ireland's President Higgins family message
Our TEDx talk about family gatherings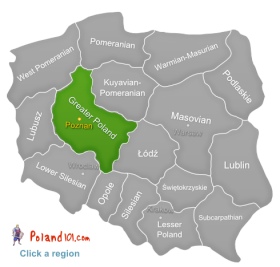 General information
Greater Poland is the region that could be called the birthplace of actual Poland, as this is where various Slavic tribes were united by one single leader over one thousand years ago. Before that point in time, Poland was a lot like other countries: made up of various different regions that were independent from each other.
Today's Greater Poland is the second biggest region in Poland, and quite popular with tourists as a lot of history lies beneath the canopies of the peaceful looking forests, and UFOs might visit every now and then (new circles turn up in the fields of that region every single year). Greater Poland is a region in which kings (and others) were murdered, but it is also a region with beautiful lakes and tranquil rivers.
Traveling to and within the area
Getting to and around Greater Poland is fairly easy. Most likely you will start in Poznan (which has its own airport), which is the capital of the region. Poznan itself has a very good system of trams and buses that also run during the night, so you won't have to worry about having to return to your accommodation before a party even started properly. Even smaller towns in Greater Poland usually have a good bus system, and traveling from one place to the other should also not prove much of a challenge. However, not all towns have a night service like Poznan, so you would do well if you checked the timetables in advance to avoid being stuck somewhere.
Local specialties
Poznan in Greater Poland is the home to Europe's last steam-hauled passenger service that survived up to this day and time. Of course, there are other steam trains in Europe, but they usually only come out for special (often quite expensive) trips, while the steam-hauled passenger service in Greater Poland is exactly what is says: a normal train service for normal people, just with the added charm that is makes you feel like you are traveling back in time when you travel on that train.
Sights, places, and activities you should not miss
Poznan is the cradle of the Polish culture, and has a lot to offer to the visitor. Most likely you will struggle if you try to see everything in just a day, especially if you would also like to take in some of the excellent museums, like the Museum of the History of Poznan or the Archeological Museum. The city square in Poznan is often referred to as the most beautiful square in Poland, so it is recommend to spend a bit of time there and take in the surroundings. Also go and look at the "The Morasko Meteorite", a place where a meteorite has left seven craters in the ground. Poznan also has a system of old forts that is very interesting. However, it is not advisable to explore them even if it was tempting – unless it is considered safe. Some of the old forts are in a very bad state, and others are used for different purposes now.

The island Ostrow Lednicki on the Lednickie Lake is worth a visit if you are interested in old archaeological complexes. There are ruins of a fortress chapel, remnants of a Duchal palace, and much more. If you happen to go there on a Saturday during the months of May to September, you could be lucky enough to take part in a free guided tour of the complex.

The Puszcza Zielonka Landscape Park is a reasonably "young" park, as it was only established in the early 1990s. The forest, of course, has been there a lot longer. The park is not only popular for people who would like a break from life in the city, but also draws in many visitors because of the twelve wooden churches in the area. There is a special church trail that you could follow if you are interested in having a look at them all.

Wolsztyn is the place to go to if you are interested in trains. You won't be the only person going to Wolsztyn because of its depot for steam-locomotives that is the home to quite a few trains from thirteen different series. The area around Wolsztyn is also quite popular with people who like canoeing and hiking.

Kalisz is most likely the oldest town in Poland, or at least one of the oldest towns, as it had been mentioned in a text dating back to the first century AD. The city is also worth visiting because of its old churches, interesting cultural events (e.g. the archaeological market in June), and the archeological reservation in Zawodzie district.