0 Podlaskie Diaspora around the world
Our in-person family gatherings
Ireland's President Higgins family message
Our TEDx talk about family gatherings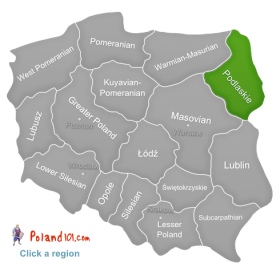 General information
The Podlaskie region of Poland is one of Poland's best kept secrets. Tourists have not discovered this area, and it is quite likely that there won't be any mass tourism there for a long time to come. Podlaskie is sometimes also called the "Wild East". There are four national parks, three natural parks and plenty of smaller reserves in this stunning part of the country. It is for the people who love nature, and who don't mind taking their time to find their way without the signs that you usually find all over the place in more touristy places. The biggest city in this region has only around 300,000 people living in it, and even though people often thing that the Podlaskie region has not much more to offer than wilderness, you might be surprised about the cultural, historical, and architectural treasures you can find there.
Traveling to and within the area
You can fly into the region, so you would have to arrive either in Warsaw, or even in Lithuania (a different country that borders this region) as some destinations in Podlaskie might be closer to Lithuania than Warsaw. Traveling within would be easiest if you had your own car or hired one. Public transport is available, especially in the towns, but can be limited in remote areas (and there are plenty of remote areas in this part of Poland).
Sights, places, and activities you should not miss
Tykocin: Tykocin is a small town with only around two thousand inhabitants, but it is a town with an interesting history, and also has some points of interest you might want to visit, e.g. the Tykocin Castle, which was built in 1469, the Baroque Synagogue from 1642 (this actually is one of the few places in this region that attracts typical tourists), a former military hospital, a Baroque monastery, and a Jewish cemetery. If you are interested in birds, then you most likely will also have a look at the white storks. There are plenty of those nesting in this town.

Suchowola: Have you ever wondered which place in Europe would be the geographical center of Europe? You're not the first one! And the question is still quite debated as there are different ways of measuring it. The first ever center of Europe, however, was measured in 1775 and was said to be the Polish settlement of Suchowola. Today, you can still visit a monument. However, scientists these days are at least agreeing that Suchowola is not that likely to really be the geographical center of Europe. It's still a nice place to visit for a day.

Białystok: Białystok is the capital of the region, but that does not turn it into a huge city. It is quite a pleasant place to visit actually. You might not know this, but Ludwik Zamenhoff, the guy who made up the language Esperanto was born in this city. The most popular sight in this city is Branickis' Palace, but there is plenty more to see, and most of it can be done by foot.

Białowieża Forest (National Park): If you only have time to visit one of the four National Parks in the Podlaskie region, then you should visit the Białowieża Forest. It is on the UNESCO World Heritage list because it is one of the rare places in which you can still see some of the original primeval forest. Once much of Europe was covered in forests like that, and this national park is a good reminder of what we have lost. You will see plants, and also animals, that you might not have ever seen before in your life, and might not ever see again unless you visit another primeval national park.

Biebrza National Park: The Biebrza National Park is the largest national park in Poland and very accessible for visitors. A big part of this park is covered in swamps, and they are a very important ecological system, so be careful and stick to the paths that are there for visitors to use. Visiting this park is a lovely experience, and if you are not confident when it comes to visiting parks like this, then this one would be a good place to start as other national parks are sometimes not really aimed at attracting visitors that much.

Narew National Park: The Narew National Park is one of the national parks that would be suited for people who know their way around the outdoors. It is a very interesting park, but not as accessible as the Biebrza national Park. The main attraction in this park is the river than forks into dozens of little rivers, and sometimes is described as Poland's version of the Nile Delta.