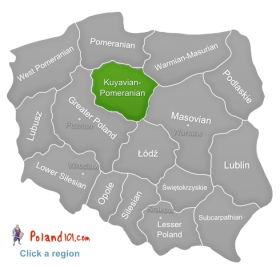 General information
The Kuyavian-Pomeranian region of Poland is special for a few different reasons. First of all, unlike other regions, it does not just have one capital but is ruled by two different cities. The region has been under the influence of Germany as well as Poland in the past, so you will find quite a few things you might expect to find in Germany and not in Poland. The region is ideal for people who love beautiful landscapes, and who would also like to eat well while doing all that walking and exploring. There are also some very good spa hotels in the region. Another point of interest are the many Romanesque churches, Gothic castles, and the reconstructed fortresses and castles that are often the home to medieval re-enactment festivals.
Traveling to and within the area
Flying into Kuyavian-Pomeranian is a bit of a challenge as there is only one smallish airport with limited connections. The connections are getting better with time, but your best bet would be to use one of the trains that drive into the region. Getting around within the Kuyavian-Pomeranian region should be reasonably easy. There are buses and trains, but the connections might not be as frequent (especially during night time) as in other regions of Poland. So make sure that you do know your timetables!
Local specialties
If you like ginger bread, then this is the right Polish region for you because the local ginger bread is quite famous. It has been baked with more or less the same recipe for centuries. The Torun ginger breads should definitely be something you try while you are visiting this region of Poland. In general, there is plenty of great baking to be sampled there.
Sights, places, and activities you should not miss
Torun (one of the two capitals) was the home-town of Copernicus, and is still quite a good place when it comes to science. If you do not know who Copernicus is, then you might want to look him up – you might have missed out on some vital information about our world! In addition, Torun used to be a very wealthy town in the past as it was one of the centers of European wheat trade. When you look at the old, surviving buildings, then you can easily see the wealth of the past by observing the splendid decorations. The city has a huge, preserved, medieval town that is on the UNESCO World Heritage list.

Bydgoszcz (the other capital) might not be the most exciting town to visit, but you could easily spend a day there, exploring the museum, the botanical gardens, and simply strolling through the center. The Museum of Soap and Dirt is also quite an unusual place to visit.

If you like canoeing and mysterious places, then the Bory Tucholskie National Park might very well be one of the ideal excursions for you. The water of the rivers is crystal-clear (and filled with trouts), the forests are filled with wildlife, and there are also some rare plants to be seen if you have an eye for that kind of thing. There are plenty of lakes surrounded by the old pine forests. It is a magical place.

The main reason to visit Biskupin is the extensive ancient settlement that has been reconstructed and is now a popular tourist attraction.

Chełmno (do not confuse this with the other Chelmno, which is in a different area) is not yet overrun with tourists, but definitely a very interesting place to visit. Not only does the city boast seven impressive Gothic churches, it also has a lovely town square and is filled with monuments from the past. An impressive feature are the city walls that are still intact and have some watchtowers. If you have the time, you should also have a look at the local museum.

Ciechocinek is a charming place that you might want to explore in an alternative mode of transport like a horse-drawn carriage or a riskshaw. The town is known as a spa town, so it is a rather relaxing place, and also a place of beauty. If you feel like you need a really good break, and would like others to spoil you with beauty treatments or would like to receive some health treatments, then this is the right place to be.