0 Lower Silesian Diaspora around the world
Our in-person family gatherings
Ireland's President Higgins family message
Our TEDx talk about family gatherings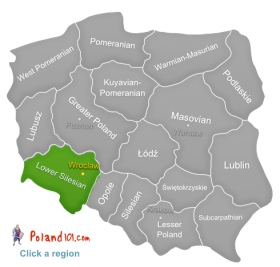 General information
Germany lies to the West of Lower Silesia, and the Czech Republic lies to the South. In the past, this had led to the fact that this part of Poland has seen its fair share of invasions, and in many places in this region, you will also be able to see the lasting marks the other cultures have left (e.g. underground factories that were built by the German Nazis). This area of Poland is very famous for its great festivals, the picturesque landscape with lovely health resorts, and for the beauty of the many castles. If you enjoy a mix of culture and natural beauty, then Lower Silesia will have a lot on offer for you. Lower Silesia is also the most popular area for tourists and one of the wealthiest regions in Poland. The capital of the region is Wrocław.
Traveling to and within the area
Getting to Lower Silesia is possible via plane, bus, train, or your own car. The international airport is in Wrocław and a few airlines land there (also some low-cost airlines). As Lower Silesia is a popular area of Poland, it also is not very hard to travel around. In addition to the trains, there is a very good (and quite complex) bus system. If you do not have your own car, then the buses should be able to get you to where you would like to be.
Local specialties
If you happen to go to Lower Silesia during September, then you should make time to take in the International Festival of Oratorio and Cantata Music (Wratislavia Cantans) held in Wrocław. You will be able to hear some fantastic orchestras there, and many famous, international names usually take part in this festival.
Sights, places, and activities you should not miss
Karkonoski National Park: This beautiful national park includes some of the oldest mountain formations in Europe, and also some ancient forests. However, sadly the forest suffer from diseases and the pollution from factories in the surrounding areas are starting to have a disastrous effect on this outstanding area of natural beauty. You should visit this stunning national park while there still is the chance to see it at its best. With over 150 different species of birds, different zones of flora, and wild sheep, this is a great place for lovers of the outdoors.

Stołowe Mountains National Park: This is another very interesting national park. There are some awesome rock formations like the hen and the camel, and places whose names sound less appealing, e.g. "Hell". There is not much forest in that park (forests only cover about three percent of the area), but it still is a very green area with lots of spruce, smaller plants, and peat. There is plenty of wildlife, and various rock labyrinths that are immense fun to navigate in – but you need to make sure that you know what you are doing while you are there!

Wrocław, also known as Breslau in German – as it used to be the capital of the former German region of Prussia -, is a beautiful city, and will most likely be your starting point if you would like to explore Lower Silesia. The city is worth two or three days of your time as there is a lot to discover. Most of the popular tourists sights can be found in the center of the city, but if you have some time, you should also check out some of the sights in the other of the five areas of Wrocław. Some examples of great sights in Wrocław are the central square that is surrounded by some impressive buildings, a group of islands on the river Oder called "Ostrów Tumski", the Japanese garden in the Park Szczytnicki (the whole park is great, but the Japanese garden is outstanding), various churches, the botanical garden, the Sky Tower, and the lovely Promenade.

Kudowa-Zdrój is the right place for you if you would like a relaxing spa holiday. The town has a population of around 10,000 people, and is famous for its historic spas, but also has a fantastic location close to the Stołowe Mountains National Park, so you could combine some fantastic hiking with some relaxation in a spa afterwards. The perfect combination, isn't it?

Kłodzko is a place you should not miss if you have an interest in military structures. The fortress in this town is huge, and was built on more ancient military foundations. The town also has an interesting Gothic stone bridge, and an old time that is worth spending some time in. Many of the buildings are from the 16th, 17th, and 18th century, so you will sometimes feel like you are travelling back in time.