0 Lubusz Diaspora around the world
Our in-person family gatherings
Ireland's President Higgins family message
Our TEDx talk about family gatherings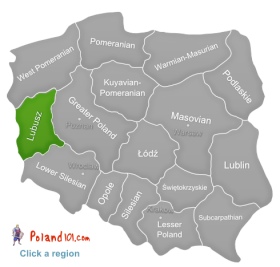 General information
Lubusz is relatively small in regards to its population. Only around one million people live there, and it is not yet a very popular destination for the mainstream tourist (and might never be, which is not such a bad thing). Lubusz is an area that is mainly interesting for people who enjoy historic fortifications, towns with interesting but also tragic histories, bird-watching and amazing parks. There are plenty of protected areas in this part of Poland, and the chances that you don't meet anybody during your hikes is quite good.
Traveling to and within the area
There is no international airport in this region, so you would have to make your way from one of the international airports in other regions of Poland. There are train and bus connections, especially in the bigger cities (though the big cities in this region are small compared to the big cities in other parts of Poland). If you plan on traveling to remote areas, you need to plan your route well. Hiring a car would be the most convenient option if you don't want to depend on public transport.
Sights, places, and activities you should not miss
Warta River Delta National Park: This incredible park is partially in Germany and partially in Poland. If you are interested in birds, then this is the one place you should visit in Poland. It is considered to be one of the best places for bird watching, no matter which time of the year you go there. It is also a very important resting spot for migrating birds. In addition, it is also an area of outstanding natural beauty.

Stalag Luft III Prisoner Camp Museum: While the Stalag Luft III Prisoner Camp Museum has fallen a bit into disrepair in parts, and you should wear reasonably good footwear if you plan on doing the walk (but that might be fixed in the future), it is definitely worth a visit if you have an interest in the history of World War II. There is a small exhibit, and you can take a walk to a replica of the fence that once stood there.

Miedzyrzecki Fortified Region, Museum of Fortifications and Bats: This used to be one of the most technological advanced German fortifications during the NAZI times. The defense structures are connected by underground tunnels, and it can be a quite creepy place. In addition, it is a refuge for bats, and up to 35,000 bats from twelve different species take shelter in those tunnels. You can visit this fascinating place only from the end of April to the end of October as the bats should not be disturbed while they live there. Be aware and dress warm: it's quite cool in the tunnels. There are various tours available, it pays to call and book in advance if you'd like a tour in English.

Gorzow Wielkopolski: This is quite a good city to use as your base for exploring some of the area. Some parts of the city have been modernized in the last few years and attract a good crowd of people and there is also good night life. Two big forests are close to the city, and within the city you can take lovely walks along the promenade, go shopping, visit museums and take in quite a nice atmosphere.

Park Muzakowski: This is another park that is shared with Germany. While Poland has the better landscape, Germany has the interesting castles – so you might want to combine a visit to both parts of the park. The park has only recently been "re-discovered" and much work has been done to turn the visit into a more pleasing experience for visitors.

Zoo Safari Park in Witnica: If you travel with kids or just love hanging out with animals, then you should visit the zoo safari park in Witnica. You can get close to the animals, and also enjoy the amusement park section of the park (which is ideal for people who don't like speed too much as the attractions are not really catering for the "need for speed" generation).

Park Siemiradzkiego: This park is situated within Gorzow Wielkopolski, and has an old amphitheater. On a good day, the views from this park are spectacular.

Fortress Museum Kostrzyn: The Fortress Museum Kostrzyn in Kostrzyn nad Odra is definitely worth a visit. The museum is interesting and has a good exhibition which will teach you some things about the past of that place. It can be a bit disturbing though as this is a city that was completely destroyed in World War II – and still there is not much else but a few streets and the museum which tells the story of that destruction.