0 Swietokrzyskie Diaspora around the world
Our in-person family gatherings
Ireland's President Higgins family message
Our TEDx talk about family gatherings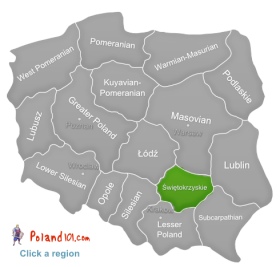 General information
The Swietokrzyskie region of Poland is a region that has something on offer for everyone: from pony riding to sightseeing, from cave exploring to climbing on mountains, from relaxing in a spa to exerting yourself during a challenging hike. The oldest oak tree in the country, the oldest mountains in the country, the ruins of one of the biggest castles.... and the list could go on and on. Even though this region is quite small, it has a lot to offer.
Traveling to and within the area
There is no international airport, so you won't be able to fly into Swietokrzyskie, however, there are plenty of bus and train connections. Traveling within Swietokrzyskie is not much of a problem. The area is popular with local and international visitors, so the important places are all reasonably well connected. You would profit from having your own car though if you would like to do some exploring outside the usual tourist places.
Sights, places, and activities you should not miss
Cave Exploring: Speleology, i.e. the exploration of caves, is a big thing in Swietokrzyskie, and you can explore some of the caves on your own if you're brave enough and do have the basic skills. If you lack either, then you can also go on a guided tour or ask one of the many Speleology groups to teach you (for a cost, of course). There are plenty of experts around, and tourist information sites will happily give you the right contacts. The Świętokrzyski Speleoklub in Kielce would be a very good place to start with if you would like more information and/or help.

Krzyżtopór Castle: The Krzyżtopór Castle is impressive even though it's a ruin now. In the past it was used for defense. It had four towers and twelve spacious halls, so you can image that it has been quite a big place. The whole building covered 3.2 hectares! There's a lot for you to explore, so take some time with you. Apparently, there is also a ghost (with a ghost dog, too) that appears during nights.

The Rolling Mill of Nietulisko Duże: The Rolling Mill of Nietulisko Duże once was used to produce steel sheets and fine rolled sections, but today it is only a ruin, however, the water system that was used to run it, is preserved, accessible any time – and for free!

Cistercian Monastery in Wąchock: If you would like to see the best preserved Romanesque monastic church in Poland, then you should head to the Cistercian Monastery in Wąchock. There is also a museum in the monastery, so you can learn about its (rather long) history. The church is open all year around, but you will have to pay an entrance fee.

Museum of Nature and Technology in Starachowice: If you only plan on visiting one museum in this region, then visit the Museum of Nature and Technology in Starachowice. This museum should offer something of interest to every visitor as there are plenty of exhibits that are quite different from each other. This museum counts as one of the best in Poland. During certain times of the year (usually before and after school holidays because teachers run out of ideas) the museum can be very busy with school children, so you might want to consider this when you plan your visit.

Mechnical Forge in Stara Kuźnica: For something unique, you need to head to Stara Kuźnica (but not on a Monday as the attraction is closed that day). In this place, you will find an old mechanical forge in its original state with the water system that was used in the past. The forge is, quite obviously, not in use any more, but a very interesting piece of history to check out.

Świętokrzyski National Park: For the great outdoors, you should head to the Świętokrzyski National Park, which is home to the highest ridge of the Świętokrzyskie Mountains, the oldest mountains in the country. More than 670 of the trees in this park as classified as monuments of nature. In addition to old trees, young trees, lots of wildlife (if you're lucky enough to spot more than "just" birds), and lots of breathtaking scenery, the park also offers some very interesting, architectural finds that tell you about the history of the place, e.g. some of the ancient places of worship.