0 Lesser Poland Diaspora around the world
Our in-person family gatherings
Ireland's President Higgins family message
Our TEDx talk about family gatherings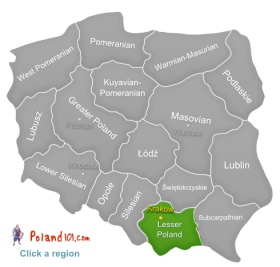 General information
Lesser Poland is one of the most popular regions for tourists in Poland. It is not a surprise: there are four truly beautiful national parks, plenty of reserves that are just as great, the most popular winter resort in Poland, salt mines, pilgrimage towns, and you can even visit the birthplace of John Paul II. Lesser Poland is also a place of darker history: there are Nazi concentration camps that will leave no visitor unmoved. Even though Lesser Poland is really popular with tourists, there is also the other part: You can go for long hikes and not meet a single person for a whole day. This turns Lesser Poland into the perfect destination for someone who is looking for the perfect mix of culture, history, and secluded wilderness.
Traveling to and within the area
Lesser Poland has excellent transport links via airplanes, trains, buses, and also a good road network. Many of the cities also have good night bus services. As a traveler, you should not have any problems with getting around unless you end up in one of the very remote villages. If you go hiking in one of the national parks, make sure that you take a good map of the area with you.
Sights, places, and activities you should not miss
Zakopane is the place to go if you have an interest in winter sports. This place is the most popular winter resort in Poland, and thus can become quite busy during the colder months of the year. If you can deal with the crowds, then it is definitely worth going there. This resort is not popular without a good reason!

Bochnia is the home to the oldest salt mine you can find in the whole of Europe. This turns the town into a popular tourist destination. Other things you might find interesting in and around Bochnia are the river Raba, the town square with its monument, and the former Jewish ghetto.

Krakow is the second largest city in Poland, and definitely worth a few days of your time if you would like to get a good idea about what it has to offer. These days the city is divided into eighteen different boroughs, and each of them does have something to offer. However, most visitor will usually not have the time to visit all of them. Here is a short overview over the sights you should not miss while you are in this fascinating city:

Old town: The old center of Krakow has made it onto the UNESO World Heritage list and is usually the one thing visitors visit when they only have a limited amount of time. There is a lot to see, and if you can, you might also want to walk over to Kazimierz, which was an independent town in itself during the medieval times.

Blonia Park: This park is relatively close to the center. In the past, it had been used for the salute of Napoleon's troops and for events with recent popes.

National Museum of Krakow: If you would like to learn more about the history of Krakow and the area, then a visit to this museum would be a good idea. Entry is free on Sundays.

Krakus Mound: This is a hill with good view over Krakow. But it is not just any hill: It is a man-made hill and nobody really knows why and when it has been built there.

Guided tours: If you have very limited time, and would like to see as much as possible, then taking one of the offered guided tours would be a good idea.

Auschwitz concentration camp: Auschwitz is one of the most famous concentration camps in the world, and millions of people visit it every year. Auschwitz is not just one concentration camp, but a cluster of labor camps, concentration camps, and extermination camps located about 60 kilometers from Krakow. Buses leave from Krakow to Auschwitz regularly, so it is fairly easy to organize a day trip to that place. Be warned though: even though people will not stay unmoved when they read the stories and see photos of what happened in that cluster of camps.

Wooden Churches: There is a fine collection of wooden churches in Lesser Poland, e.g. St Michael Archangel's Church in Debno, and St. Philip and St. Jacob the Apostles' Church in Sekowa.

National Parks: It is impossible to say which of the national parks is the best to visit. It kind of depends on what you would like to get out of your visit (i.e. is wildlife more important, or a very good infrastructure?). All of the national parks have great hiking opportunities and can be perfect for a break from your everyday life. For hikers and bird-watchers, the National Parks in Lesser Poland are a good choice, no matter which one you choose.