0 Pomeranian Diaspora around the world
Our in-person family gatherings
Ireland's President Higgins family message
Our TEDx talk about family gatherings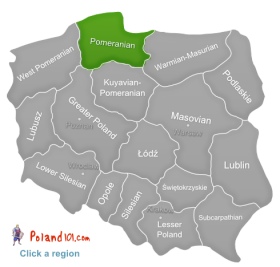 General information
The Pomeranian region of Poland is often subtitled "the playground of Poland" as there is so much to do when it comes to recreation: from some of the best windsurfing, to hiking on impressive dunes, relaxing in a spa, exploring some interesting cities, or just lying down at a beach with a good book, to having fun with the really good night life in some of the hot spots. If you would like to have a varied holiday, then this is the region to choose.
Traveling to and within the area
As this area is very popular with national and international holidaymakers, traveling to the Pomeranian region of Poland is very easy. You can fly in or take one of the international trains and buses. Getting around is also not an issue unless you plan on traveling in the northwestern and northern places of the country as those are rather sparsely populated.
Local specialties
Dogs. You have heard of Pomeranian dogs before, right? Those little toy dogs originate from this Polish region. Queen Victoria used to own one of these dogs, and since then, this breed has become rather popular with royalty. Later on, of course, normal people also wanted these dogs to feel more royal maybe? Though if you look at these dogs, you may wonder how they'd truly make you feel.
Sights, places, and activities you should not miss
Visitors to the Pomeranian region will often end up in the so called Tricity, which is a a stretch along the coast in which three different cities almost merge into each other (well, it's easy to get from one to the other). The three cities are:

Gdańsk (the capital of the region): The region's capital had quite a turbulent past and has been largely destroyed during World War II. Today, it is Poland's largest city in the North, and a main arrival and departure point for visitors and also traders. This gives the city an international and bustling atmosphere. You will not be disappointed by the night life, and there is also plenty to do during the day. There are incredible buildings, interesting museums, and some very interesting ships you can see, e.g. the SS Soldek, which was the first ship built in Poland after World War II.

The holiday center Sopot: Sopot is the home of the longest pier you can find in Europe – don't miss a visit to it! Try to take photos during sunrise or sunset for some spectacular shots. Sopot also has an unusual opera, the Forest Opera, which takes places in a nearby forest. Try to catch one! In general, Sopot is a place to spoil yourself, relax, and go for lovely walks.

The port city Gdynia: The 13th century fishing village has developed into an important port city over the centuries. Today, it is the main harbor in Poland, and thus also a rather busy place. Tourists will not find many historic buildings in this city, but there are some good museums and some fantastic beaches.

Wloclawek: While the cities and towns mentioned above do not offer much when it comes to historic buildings, Wloclawek makes up for that lack, so it might be a good idea to combine a visit to the Tricity with a visit to Wcloclawek. There are plenty of historical monuments, and an impressive Gothic Cathedral. Pony trekking is a popular activity in the area.

Brine water graduation tower in Inowroclaw: This does not sound like your usual sight, but the Brine water graduation tower in Inowroclaw is definitely worth a visit. These towers do have a medical purpose, so if you have any respiratory problems, then a visit to this sight might even prove beneficial. Even if not, you will enjoy the walk and the views from the structures. There is also a graduation tower in Ciechocinek.

Ethnographic Park in Torun: If you are interested in learning more about how people lived in other centuries, then a visit to the ethnographic park in Torun can be very educational. In this park, buildings from the different centuries (from 18th to 20th century) have been reconstructed and can be viewed by visitors. Fences and outhouses have also been built in different styles of different centuries.

Jurapark in Solec Kujawski and Zaurolandia in Rogowo: If you like dinosaurs, or travel with children, then a visit to a Jurapark is a very good idea. After all, there aren't that many places in the world where you can see over 160 life-sized dinosaurs! You need to be prepared to walk about two kilometers though if you would like to take the whole trail in. After all, you can put all those dinosaurs in the same place.