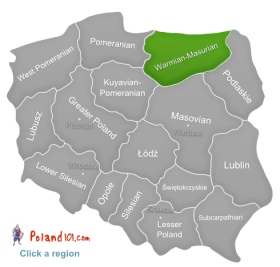 General information
White eagles, black and white storks, lakes that come in different shades of blue and green, lush forests, and a lot of tranquility – if you had to put this region into a few words, then those would be it. The Warmian-Masurian region of Poland is the region of three thousand lakes, literally, because lakes are indeed plentiful in this region, and if you're lucky you might even find a lake that you don't have to share with other people (but don't be too hopeful as more and more people discover this gem of a region). Many of the lakes are connected (via canals), so if you hire a boat (canoe, kayak, or something bigger if you have a license), you can be on the water for hundreds of miles. Another thing the region is famous for are the Teutonic fortifications, of which you could visit some during your stay.
Traveling to and within the area
There is no international airport, but you can get to the region by train (be prepared for a long ride though). The best option to get around the area is really to have your own transport. The roads, however, can be nightmare for inexperienced and nervous drivers.
Sights, places, and activities you should not miss
Sailing: Sailing boats are for hire in various places, and sailing is one of the best and most beautiful options to explore the area. You need to be aware of one thing though: There are some black sheep out there, and they will try to charge you a lot more than the sailing boat is worth. Some might even try to hire defect boats to you. It is recommended that you take someone who can speak Polish with you, so you can be sure that you will not be scammed when hiring a sailing boat. Also get a good map of the area you plan to sail in. Many of the lakes are connected, and you might get lost!

Sztynort: There is not much to Sztynort itself, but it is the location of an old German mansion. Nobody is living in there anymore, and it's easy to see why (a tad neglected), but it is quite an interesting place to visit. If you are in the area, then it's definitely worth your time. You could sail there, too. Many visitors actually sail there, and then sleep on their boat in the harbor. And for sleeping, there actually is no other option than that either!

Olsztyn: Olsztyn is the capital of the Warmian-Masurian region. It is the starting point for many visitors as it is the city with the best services. There is also a good public transport system in and around the city. Don't just use Olsztyn as your jump off point into the area just because the city does not look that attractive on the first sight. You should spend a couple of days to have a look around in the city itself. Some points of interest are the old town with its fortified walls, and the reconstructed Gothic castle. A lot had been destroyed during World War II, but much has been rebuilt afterwards.

The Wolf's Lair: The Wolf's Lair is one of the points many visitors are drawn to. Today, there are only ruins, but during World War II, these were the headquarters for Hitler. This destination can even be reached with local buses, so there's no excuse for not going there.

Ełk: Ełk is the perfect place if you would like to relax in a charming town next to a lake. It is also becoming quite popular with local holiday-makers – and for a good reason. People who are after a break from the city will find all they need in this town, and you will, too!

Elbląg: While almost none of the buildings in this town are over fifty years old (it's one of the unfortunate towns that was almost completely destroyed during World War II), you will find that this is a town with some really nice architecture: it's a mix of Renaissance, Gothic and Baroque. This town is great if you would like a nice place to explore the surrounding area from. There are wonderful forest walks – and of course plenty of lakes.

Ostróda: Ostróda is one of the cities in the region that is becoming more popular with visitors. The area around Ostróda is very peaceful and ideal for a romantic getaway. The town is also interesting because of its history, not just the World War II history. It is built on an old Prussian settlement.