0 West Pomeranian Diaspora around the world
Our in-person family gatherings
Ireland's President Higgins family message
Our TEDx talk about family gatherings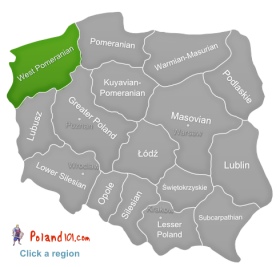 General information
West Pomeranian is a great area for people who like forests, Vikings, the sea, and would like to see an interesting mix of different architectural styles. The West Pomeranian region in Poland borders on to Germany and the Baltic Sea, is often called the greenest region of Poland, and has plenty to offer when it comes to landscapes (from beaches to lush forests) and culture (festivals, theaters, concerts and plenty of interesting buildings). Whether you would like to walk along some cliffs next to golden beaches, feed some bisons (yes, indeed!), or explore some historic buildings and then have a relaxing afternoon in a geothermal bath – it's all possible in West Pomerania!
Traveling to and within the area
You can fly into the West Pomeranian region, though international connections can be a bit limited. There are good train connections, plenty of buses, and a reasonably good road network. Generally speaking, you should not have any problems with public transport once you have arrived. Simply make sure that you always have current timetables and/or a good road map.
Local specialties
The West Pomeranian region is well known for its Viking festivals, with the annual Viking festival on Wolin Island being one of the most famous ones. Thousands of people come from all over Europe (and you often also get people from outside of Europe) to see these festivals. Many of those festivals even include reconstructed Viking ships, and of course you'll get to see plenty of people dressed up as Vikings.
Sights, places, and activities you should not miss
Wolin Island and Wolin National Park: This island is located close to where the Oder meets the sea, and is a great place to go to, especially if you have an interest in Bisons and Vikings! The Wolin National Park is located on this island, and there are some very good, and well marked tourist trails. Another drawing point of this island is the yearly Viking festival that attracts people from all over Europe. The Wolin National Park is often described as one of the most beautiful places along the Polish coast.

Szczecin is the capital of West Pomeria and sits on the banks of the Oder. It is a great city to visit if you have an interest in the maritime history of Poland. There is an excellent maritime museum, and you can also go on a variety of boat trips. Other places of interest in this lovely city are the Wały Chrobrego (a promenade from which you can have fantastic views, lovely for walks during sunset), the Old Town, the Emerald Lake (a bit outside, but worth a visit, also because of the artificial cave close by), and the dancing fountain (however, the fountain dance can only be watched during the summer months, and starts at 9.30 pm).

Kamień Pomorski is a relatively small town in a scenic location. It is ideal for people who would like a holiday away from the crowds, but you would still be close enough to some interesting sights like the Cathedral of St. John the Baptist. The town is also ideal if you would like to go for a day trip to one of the islands, and there are some good beaches for some lazy days.

Usedom: Usedom is a bit of a strange island as it is partially German and partially Polish – so you will hear German as well as Polish spoken – depending on the part you travel in. The island is very popular with holidaymakers from Germany as well as Poland. It's not much of a surprise because the island is a place of natural beauty. If you only want to go there for a day or two, then it is recommendable to go on one of the Usedom Safaris, because these safaris will give you the chance to see the most beautiful spots on the islands within a reasonably short amount of time.

The Zachodniopomorskie lake district is a paradise for lovers of water sports (like kayaking and water skiing) and for people who simply enjoy beautiful lake landscapes. The lake district does not only have lakes though. There are beautiful, lush forests full of native wildlife (bird watcher paradise), ancient rivers flowing into the sea, and also some swamps with a different kind of wildlife. All you have to do is pack your day-packs, take your camera and go for a walk!